Our Committee…
The members of the ANP Committee, as elected at the AGM in October 2019, are:
Karen Pritchard (Membership Secretary)
A member of ANP since 2012 I have been an ENT for 12 years, initially at the University of Bristol but now entirely freelance with a 50/50 split between higher education and business. My background is as a Legal Secretary and then 15 years as Cabin Crew with BA and now Electronic Note-taking. I love the variety of this profession and the satisfaction of providing valuable communication support. I am keen to raise our profile within the D/deaf and hard of hearing community and will work hard to ensure that our impressive range of skills are recognised and valued.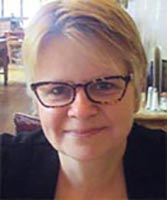 Dian Donovan (Treasurer)
I have been a member of the ANP for 3 years. Although I have worked as an ENT for the past 8 years, I have been fully freelance for the last 2 years. My experience is mainly in educational settings as both an ENT and CSW but since going freelance I have extended my experience to include Tribunals, medical appointments, corporate training/presentations and university lectures. I recently qualified as a Lip Speaker and am keen to share knowledge and good practice between the two professions. Within both these roles I really enjoy the variety of assignments and find it an enormous privilege to provide communication support to our clients. By being involved in the ANP committee I hope to support its growth and development and ensure we raise the profile of us all as professionals.
"You can use a Notetaker for meetings, trade union business, medical appointments, lectures and classes, job interviews, work training, conferences, your daily work, committee work - in fact for any situation when you may need notes that you cannot easily write for yourself..."