Our Management Committee…
The members of the ANP Management Committee, as elected at the AGM in October 2017, are:
Karen Pritchard (Acting Chair)
A member of ANP since 2012 I have been an ENT for 12 years, initially at the University of Bristol but now entirely freelance with a 50/50 split between higher education and business. My background is as a Legal Secretary and then 15 years as Cabin Crew with BA and now Electronic Note-taking. I love the variety of this profession and the satisfaction of providing valuable communication support. I am keen to raise our profile within the D/deaf and hard of hearing community and will work hard to ensure that our impressive range of skills are recognised and valued.
Lisa Kelly (Secretary)
I had a long career for 23 years in university library work. I am used to classifying and sorting things and searching for information, so I hope these skills will help in my role as ANP Secretary!
I also worked as an ENT at my local university for 8 years, where I was employed in-house. I took voluntary redundancy from the university in 2016, and started to work as a fully freelance notetaker.
I still love working with students in higher education, but I also work with other clients in a variety of settings.
I enjoy yoga and body balance classes, and find this helps me to cope with the physical and mental demands of being an ENT.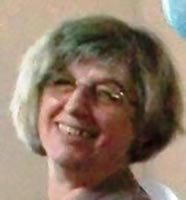 Meriel Michaelides (Membership Secretary)
A founder member of ANP having held various committee posts in the past, I remain an ardent supporter of the profession and association and look forward to providing members with all the information they need to develop their own successful careers. My other interests include sewing and lots of dancing to balance the seriousness of the job.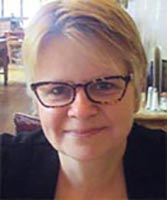 Dian Donovan (Treasurer)
I have been a member of the ANP for 3 years. Although I have worked as an ENT for the past 8 years, I have been fully freelance for the last 2 years. My experience is mainly in educational settings as both an ENT and CSW but since going freelance I have extended my experience to include Tribunals, medical appointments, corporate training/presentations and university lectures. I recently qualified as a Lip Speaker and am keen to share knowledge and good practice between the two professions. Within both these roles I really enjoy the variety of assignments and find it an enormous privilege to provide communication support to our clients. By being involved in the ANP committee I hope to support its growth and development and ensure we raise the profile of us all as professionals.
"Notetakers work in so many different places. Meeting rooms, lecture theatres, doctors' consulting rooms, recording studios, converted warehouses, Deaf centres, peoples' homes - these are just a few examples of where we work..."